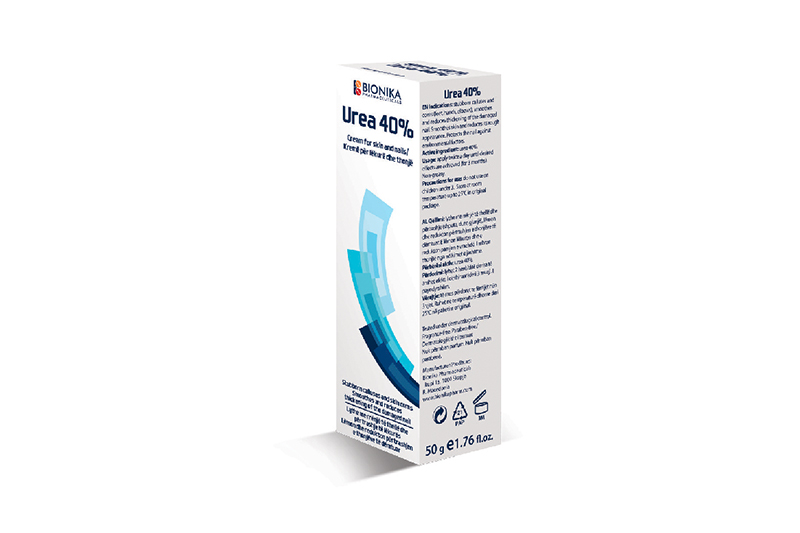 Urea
40% cream for skin nad nails
UREA 40% (carbamide). 1 g cream contains 400 mg urea.
Other ingredients: cetyl palmitate, cetyl alcohol, polysorbate 60, sorbitan monostearate, benzyl alcohol, lactic acid, triethanolamine, purified water.
UREA  is a keratolytic, emolient cream. It is used as additional care to keratosis, atopic eczema and psoriasis; for stubborn calluses and corns (feet, hands, elbows), smoothes and reduces thickening of the damaged nail. Smoothes skin and reduces its rough appearance. Protects the nail against environmental factors.
Apply twice a day until desired effects are achieved (for 3 months). Apply UREA 40% cream to affected areas. Do not use on surrounding tissue. If desired, cover with adhesive bandage or gauze, secured with adhesive tape.
When applying to damaged nail surfaces, use an ample amount and cover as above. An option is then to use a "finger" from plastic or vinyl and slip over the bandaged-covered site and secure with additional adhesive tape. Keep dry and occlusive for 3-7 days.
 For external use only
Do not use the cream if you are sensitive to any of the substances included in the cream
Do not use on children under 3 years age
50 g cream in PE tube/carton box
Tested under dermatological control
Fragrance-free
Paraben-free
Non-greasy