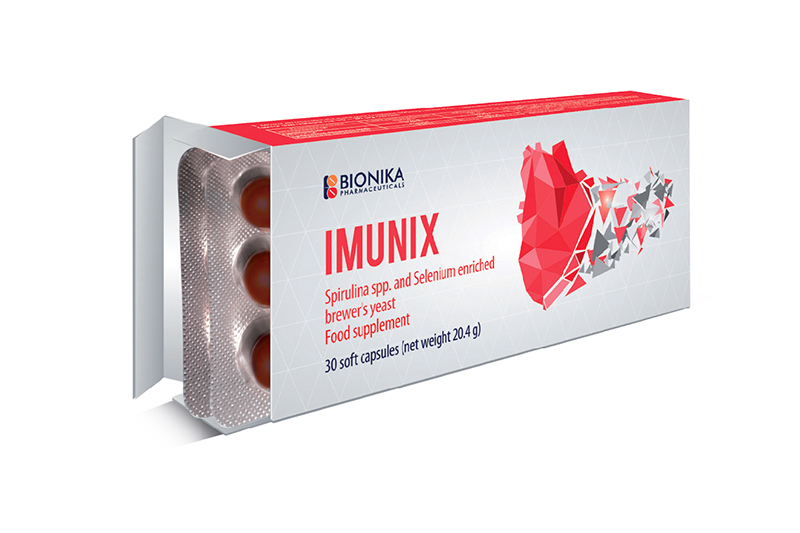 Imunix
30 gelatin capsules, soft Food supplement
One soft gelatin capsule contains 100 mg Spirulina powder and 10 mg Selenium Enriched Brewer's Yeast (equal to 10 – 20 µg Selenium, in the form of organic Selenium)
Other components: soybean oil, gelatin, glycerol, yellow beeswax, emulsifier: soy lecithin, colouring agent: carob extract, purified water.
Imunix represents a combination of blue-green algae Spirulina and Selenium enriched Brewer's Yeast. It is used to supplement the body's increased needs of vitamins and minerals and helps replacing the deficiencies of the same in one's diet.
Spirulina is a blue-green algae containing about 60% proteins, essential amino acids and high quantities of Gama linoleic acid (GLA). Spirulina is rich with phycocyanin, which is one of the constituents in human blood.
The most important vitamins that body needs are found in Spirulina, including B vitamins, vitamin E and beta carotene. Spirulina is also rich in minerals (including iron, calcium, zinc, potassium, magnesium, selenium, phosphorus and oligominerals), enzymes, chlorophyll, sulpholipids and glycolipids.
WHY YOU SHOULD USE IMUNIX
Usage of Selenium helps strengthening one's immunity.
The use of these capsules helps in: increased physical activity, state of inadequate, irregular and uniform nutrition (diets, starvation etc.), for promoting one's growth or appetite. Imunix capsules
can be used in cases of deficits due to various diseases or pathological states, when the needs of vitamins or minerals are increased or in conditions of increased mineral loss (vomiting, diarrhea, excessive sweating).
The most important feature of the Brewer's Yeast is its high content of B group vitamins (B1, B2, B6, B12, biotin, niacin). –
Vitamin B1, B2, B6, biotin (B7), niacin (B3) and B12 contribute to normal functioning of the nervous system.
 Vitamin B2, biotin (B7) and niacin (B3) contribute to maintenance of normal skin. Enrichment of the Brewer's Yeast with Selenium further increases its useful efficiency.
Do not use Imunix soft gelatin capsules if you are sensitive to any of the substances included in the capsules.
WARNINGS AND SIDE EFFECTS
There are no reported side effects or toxic occurrences connected to the use of Spirulina or Selenium enriched Brewer's Yeast in recommended doses.
The recommended dose in children aged 7 to 14 years is one capsule daily, adults may take from one to three capsules daily
Swallow the dark brown soft gelatin capsule with small amount of liquid.
Do not use the food supplements as a substitute for diversified food.
For additional information contact your pharmacist or physician.